Satisfy your sweet tooth at Fletcher's Ice Cream & Cafe
Indulge in our homestyle ice cream, coffee, and pastries in a cozy and welcoming atmosphere
Happy Thanksgiving Season
We have some great Thanksgiving Ice Cream Pies for you. Make sure to submit your pre-order soon!
Also, Fletcher's will be hosting our 4th annual free Thanksgiving Dinner on Sunday, November 19th. Learn more here, and we hope to see you there.


A Delectable Minneapolis Delight
Welcome to Fletcher's Ice Cream & Cafe, a delightful oasis in the heart of Minneapolis! Indulge in the city's flavors with our wide range of creamy dairy-based ice creams, while embracing inclusivity with our scrumptious non-dairy/vegan options. Discover a haven where taste and compassion converge, catering to all ice cream enthusiasts.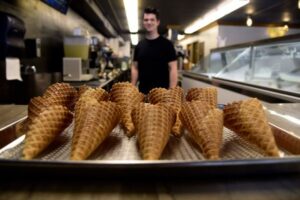 Fuffy waffle served with a scoop of honey butter & powdered sugar
Vienna bread with pesto, fresh mozzarella, fresh tomato, & sun-dried tomato
Add turkey if you like +2.00
Your choice of homemade ice cream paired with fresh whipped cream on a fluffy waffle
Vienna bread, mustard, mayo, dill pickle, marinated pork, ham, & swiss cheese
marshmallows, chocolate drizzle, graham cracker, & fresh whipped cream
Havarti, Swiss, & muenster cheese, melted & gooey
FRUIT'ELLA CRUNCH - 10.00
hazelnut-chocolate spread, fresh strawberries, bananas, blueberries, whipped cream, topped with granola crunch
PESTO ARTICHOKE GRILLED CHEESE - 6.50
Whole wheat bread with basil pesto, seasoned artichoke hearts, & Havarti cheese
Treat Yourself with Fletcher's
Indulge in our creamy, homestyle ice cream made with the finest ingredients. Whether you're craving a classic flavor or a seasonal specialty, we have a variety of options to satisfy your sweet tooth.